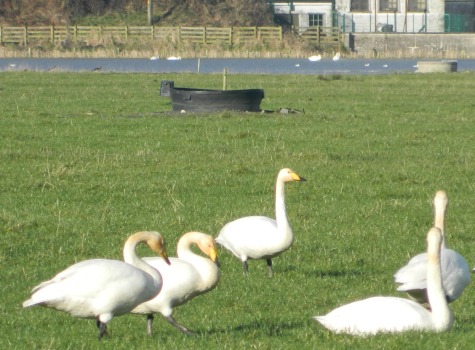 If you were standing here 200 years ago you would be either stuck in the mud or under the water of Lough Swilly. The farmland behind you is reclaimed from the sea over 160 years ago and turned into some of the richest farmland in the country. The embankment you are standing on was hand-built by labourers from all parts of East Donegal, and their craftsmanship is testified by the fact that the bank is still doing its job today.
This is a great place in the winter season to see wildfowl flying in and out of the lake, birds like Whooper swans and Greylag geese. Keep and eye in the fields both summer and winter for wading birds such as Lapwing, Redshank and Curlews amongst others. It is also a great place to look for some of our more threatened farm and hedgerow birds like Yellowhammers and Tree sparrows. In the summer hosts of Swifts take full advantage of the embankments for feeding on clouds of flies, a fantastic place to see their aerial acrobatics.
If you walk towards Tready Point you will see the "new" pumphouse which pumps the water from the farm into the lake.