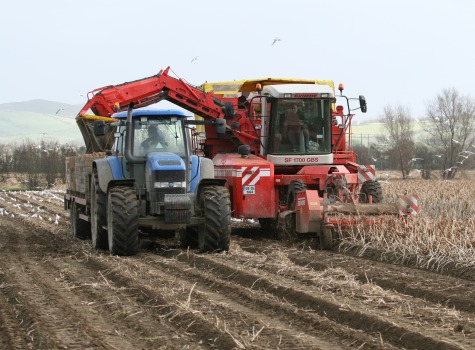 Grianan Farm was created from the mud and salt marsh of Lough Swilly over 160 years ago. This farm boasts over 2000 acres of reclaimed land, which is some of the most productive land on the island of Ireland today.
It is this intensive agriculture and the large fields that make it so attractive for the visiting wildfowl. The farm is managed in a tillage type system with a mixture of grazing animals, cereal crops and potatoes being grown on the land. Much of the farm is now managed as an organic farm, this means that it is an even greater challenge for a balance to be found with the interaction between wildlife and food production. The farmers are involved in a management agreement which means that the birds are tolerated and left undisturbed through the winter months.
The farm with its hedgerows and wet patches in the field allow an opportunity to see other species such as some of the more threatened farmland birds like tree sparrows and large flocks of finches in the winter, also some of the wading birds such as the lapwing breed on the large fields in the summer.