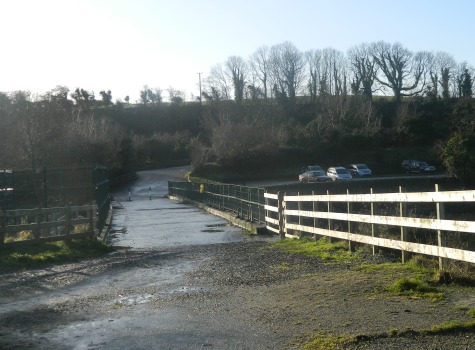 When the Reclamation project was started about 1850, three embankments were created, The Tready Embankment, The Farland Embankment and The Inch Embankment. The Farland and Inch embankments were created to hold back the tides, and the Tready Embankment was built dividing the lake and farm.
Here you can see the tidal waters of Lough Swilly on one side and the brackish waters of Inch Lake on the other. The water from the lake is released into Lough Swilly here via eight sluice gates which open at low tide, the gates then swing closed when the tide comes in.
If you look out towards the Lough you will see what remains of Farland Point, this was used as a jetty in the past when potatoes were brought via steam train and loaded onto ships for export.
When the mud is exposed a wealth of waders can be seen feeding oystercatchers, redshank, godwits, curlews and herons to name a few.
It's also a great place to watch diving birds such as merganser's, grebes and divers, and it's worth approaching quietly as it's a regular place for sighting the blue flash of the kingfisher and the quiet stealth of the otter