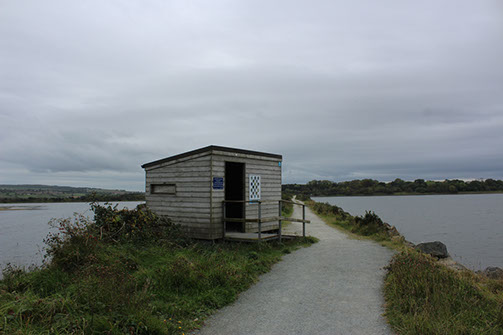 Now at the Island end of the Farland Bank, you have unsurpassed views over and beyond the Reserve. You will be able to see An Grianan Fort to the southeast, Burt Castle to the southwest, Inch castle to the west and Scalp Mountain to the northeast.
Close to the embankment on the lake side you can see a small islet. This is the most densely populated part of the Reserve in the breeding season. It's home to hundreds of breeding sandwich terns and black-headed gulls, as well as an unusual breeding colony of mute swans, not to mention tufted ducks mallard, and common terns.
Sandwich terns are a globally threatened species, which requires extra effort in their conservation. They migrate each year to spend the winter in the warmer climes of western Africa. They were struggling to cope with our increasingly wet summers and high water levels which are a constant threat to the unfledged chicks. So to decrease the threat of flooding we set about creating an artificial platform on the islet with rock and sand, thankfully the Terns were agreeable to their new home.